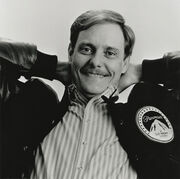 Warren Skaaren (March 9, 1946 – December 28, 1990) was an American screenwriter and film producer. His notable writing includes: Batman (1989), Beetlejuice (1988), Beverly Hills Cop 2 (1987) and Fire with Fire (1986). He was also credited as associate producer for Top Gun (1986), for which he wrote a draft. He had also written an unproduced sequel to The Jewel of the Nile (1985) called The Crimson Eagle.
Skaaren graduated from Rice University in Houston, Texas in 1969. He served as the Student Association President from 1968–1969 and was a member of Hanszen College. He moved to Austin, Texas and began working at the Texas Department of Health and Human Services. He was appointed by Governor Preston Smith as executive director of the newly formed Texas Film Commission on December 9, 1970. His first success was getting the film The Getaway (1972) shot in Texas. Nearly forty more feature films were shot in Texas while Skaaren headed the Film Commission. He was a driving force behind the distribution of The Texas Chainsaw Massacre (1974), a film in which he took a personal financial stake. The success of the film enabled Skaaren to leave the Film Commission and begin his career in the film industry.
Skaaren married Helen Griffin on March 7, 1969. He and his wife fostered seven children, and he helped found the Travis County Foster Parents Association. He also served on the board of directors of the Deborah Hay Dance Company. In 1986 he established a private charitable trust, the Laurel Foundation, and was involved with the East West Center, a macrobiotic dietary provider. He died of bone cancer on December 28 1990.
Skaaren's archive resides at the Harry Ransom Center at the University of Texas at Austin.
Ad blocker interference detected!
Wikia is a free-to-use site that makes money from advertising. We have a modified experience for viewers using ad blockers

Wikia is not accessible if you've made further modifications. Remove the custom ad blocker rule(s) and the page will load as expected.