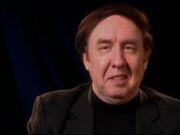 Terrence McDonnell
is an American television screenwriter and producer, best known for his collaboration with Jim Carlson in the first Battlestar Galactica series. The two of them also wrote the 1988 animated feature film Pound Puppies and the Legend of Big Paw.
Shows McDonnell has worked on, as a writer, include: The Six Million Dollar Man, Gemini Man, The Life and Times of Grizzly Adams, CHiPs, The Bionic Woman, Battlestar Galactica, Magnum, P.I., The Rousters, Kidd Video, The Love Boat, Riptide, ABC Weekend Specials, Danger Bay, Dorothy Meets Ozma of Oz, Good Morning Miss Bliss, Let's Make a Deal, The New Adventures of He-Man, Beetlejuice, X-Men, Candid Camera, Exosquad, Quicksilver, You Don't Know Jack, and 1 vs. 100.
Ad blocker interference detected!
Wikia is a free-to-use site that makes money from advertising. We have a modified experience for viewers using ad blockers

Wikia is not accessible if you've made further modifications. Remove the custom ad blocker rule(s) and the page will load as expected.