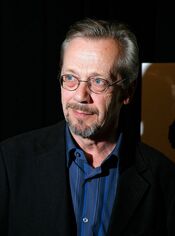 Stephen Ouimette (born June 30, 1954) is a Canadian actor and director, born and raised in St. Thomas, Ontario, Canada, and a graduate of the University of Windsor. Although mostly known for his stage work, particularly at the Stratford Festival of Canada and recently on Broadway in La Bete, he achieved TV fame (and a Gemini Award) as the ghostly Oliver Welles in the drama "Slings and Arrows" (2003-06). In 2006, he starred in the CanStage production of "I Am My Own Wife". He played the part of Beetlejuice through the entire run of the animated series.
Beetlejuice Connections
Edit
Ouimette is also from X-Men: The Animated Series (with Alyson Court) and Babar (with John Stocker).
Ad blocker interference detected!
Wikia is a free-to-use site that makes money from advertising. We have a modified experience for viewers using ad blockers

Wikia is not accessible if you've made further modifications. Remove the custom ad blocker rule(s) and the page will load as expected.