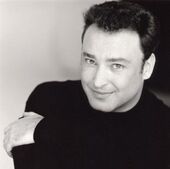 Ron Rubin (born May 12, 1959; in Winnipeg, Manitoba, Canada) is a Canadian veteran voice actor (and an "Edna Talent Management" agent) whose voice is most easily recognized as that of Artemis from the English translation of Sailor Moon. He also plays Germs Pondscum in Beetlejuice: The Animated Series (1989-91).
Ron Rubin also worked as a writer for Fame (1982-87), Sharon, Lois & Bram's Elephant Show (1984-88) and Palmerstown U.S.A. (1980-81) as well as the executive in charge of the Canadian documentary series The American Experience (1988-Present; on PBS).
Ad blocker interference detected!
Wikia is a free-to-use site that makes money from advertising. We have a modified experience for viewers using ad blockers

Wikia is not accessible if you've made further modifications. Remove the custom ad blocker rule(s) and the page will load as expected.