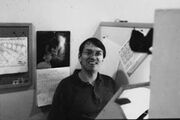 Rob Sadler (aka Rob Satler) is one of the layout artists (all 4 seasons) of Beetlejuice: The Animated Series. He's also known for his other works, such as Babar Franchise, The Care Bears Franchise, Rupert, The Magic School Bus, Eek! the Cat, Fievel's American Tails, Chop Socky Chooks, The Strawberry Shortcake Franchise, Ewoks (Star Wars Animated TV Series) and others.
Ad blocker interference detected!
Wikia is a free-to-use site that makes money from advertising. We have a modified experience for viewers using ad blockers

Wikia is not accessible if you've made further modifications. Remove the custom ad blocker rule(s) and the page will load as expected.