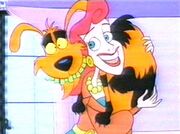 Odeious (whose Beetlejuice was transformed into) was in this animated Beetlejuice episode, "Mom's Best Friend".
In that episode, at his old tricks again, BJ torments Poopsie, this time in the form of another dog. Big mistake this time, as the Neitherworld dogcatcher collered him and crated him to the Dog Pound. Though the coller leaves BJ stuck in his dog form he manages to escape the pound, but barely escapes Doomie, who likes chasing dogs! Lydia summons Beetlejuice to the Outerworld to help him but Delia, who always wanted a dog (never got one because Charles is allergic to them), adopts Beetlejuice under the name Odeious (via how he smells). Her husband's allergy aside, its revealed she never got a dog becuase she smoothers them, and though getting his Neitherworld coller replace with a new one was an advatage, BJ ran off when Delia tried to give him a bath! Lydia insisted to Beetlejuice that he stays a dog a bit longer, and instead make Delia disown him by being a bad dog! As Odeious, Beetlejuice was the class clown in Obedience School (but graduated on his first day any way) and won the Annual Dog Show by default.
He looks like a Dr Seuss illustration
Ad blocker interference detected!
Wikia is a free-to-use site that makes money from advertising. We have a modified experience for viewers using ad blockers

Wikia is not accessible if you've made further modifications. Remove the custom ad blocker rule(s) and the page will load as expected.