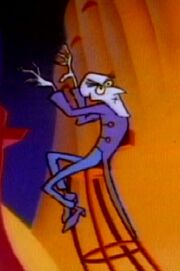 Neither-Typist (meaning Typist in Neitherworld) at Neither-Court (court in Neitherworld) with Judge Mental. He appeared in a pilot episode of "Beetlejuice: The Animated Series", called "Critter Sitters".
The Neither-Typist types so fast, because he's also known as Neither-Court Reporter. Otherwise known as Neither-Court Stenotypist (Stenotype, that is). Anyway, he typed a reporting about a recent accident, because Mr. BJ (Beetlejuice) was responsible for bad babysitting business to the Neither-Babies (Babies in Neitherworld; whose names are Little Gooey, Porcupine Baby & Great Huge Baby) at the Neither-Mall (Mall in Neitherworld; Shocking Mall).
Ad blocker interference detected!
Wikia is a free-to-use site that makes money from advertising. We have a modified experience for viewers using ad blockers

Wikia is not accessible if you've made further modifications. Remove the custom ad blocker rule(s) and the page will load as expected.