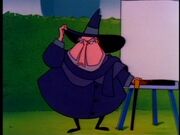 Mr. Kane appears in Beetlejuice Animated Episode, Stage Fright.
Mr. Kane has introduced by Miss Shannon in her own private school to all girls, including Lydia Deetz. He showed the annual Shakespeare festival called "Romeo and Juliet". Later that day at Miss Shannon's playhouse, Mr. Kane is the judge of the reharsal stage. Claire does the rehearsal of "Romeo and Juliet". To get even and make up for pathetic acting skills at tryouts, Claire framed Lydia by using Lydia's spiders against her and the African-American boy who played Romeo as sabotage, and the rehearsal act is ruined because Claire used Lydia's beehive to threw onto Mr. Kane, who's having the bee stings.
A short time later, survived from the bee sting accident, Mr. Kane has made the decision to Claire Brewster and not Lydia about the "Romeo and Juliet" rehearsal. The next night during the Shakespeare presentation, everyone, including Mr. Kane, has frightened because Claire Brewster (who was possessed by Mr. BJ, changes the costume to Lydia's design) in her body preformed his own touch to the payback in ways both personal and artistic, scaring Romeo and all audinces in the playhouse.
The next day, Mr. Kane is very angry about this yesternight's (last night) play performance, though Miss Shannon read newspapers about what's turning drama to comedy, so the play became a hit, but Claire didn't want to be the star of this play, like this ever again. While the other girls are laughing at Claire, Lydia reads the Shakespeare book, privately admits BJ shook the Shakespeare.
Mr. Kane looks like and has originally portrayed by the legendary actor/director, Orson Welles, in his own movie "Citizen Kane" (1941).
Ad blocker interference detected!
Wikia is a free-to-use site that makes money from advertising. We have a modified experience for viewers using ad blockers

Wikia is not accessible if you've made further modifications. Remove the custom ad blocker rule(s) and the page will load as expected.