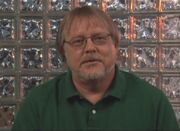 Michael Edens is one of the writers and story editors of Beetlejuice: The Animated Series. He's also known for his other works, such as The Real Ghostbusters, RoboCop: Alpha Command, Stargate: Infinity, Mummies Alive, Sonic Underground, Sabrina: The Animated Series, Trollz, Horseland, Exosquad, Teenage Mutant Ninja Turtles (1987 animated TV series), NASCAR Racers, Street Fighter: The Animated Series, TaleSpin, Little Shop and others.
Ad blocker interference detected!
Wikia is a free-to-use site that makes money from advertising. We have a modified experience for viewers using ad blockers

Wikia is not accessible if you've made further modifications. Remove the custom ad blocker rule(s) and the page will load as expected.