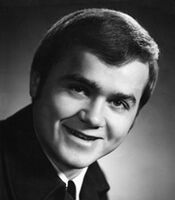 Keith Hampshire (born November 23, 1945 in Dulwich, London) is an English-born popular singer of the 1970s, famous in Canada for three top ten hits (including his #1 version of "The First Cut Is The Deepest", which topped the RPM 100 national singles chart on May 12, 1973), and the successful television show Music Machine. Though his voice resembles David Clayton-Thomas', Hampshire was not as successful in the United States, where his highest single only reached number 51. Also, he's a Canadian actor, who's from some animated TV shows and animated movies, including The Nutcracker Prince (1990) and Beetlejuice: The Animated Series (1989-91; as he played Doomie).
Between July 1966 and mid-August 1967, he was a DJ for Radio Caroline South on 259 metres, medium wave (1187 kHz AM). His show was called "Keefers Commotions", and later "Keefers Uprising".
In 1983, Hampshire released a song (as 'Bat Boys') entitled "OK Blue Jays", which became an anthem for the Toronto Blue Jays Major League Baseball team. Blue Jays fans sing it during the seventh-inning stretch of home games. The song was written by Alan Smith, Pat Arbour, Jack Lenz and Tony Kosinec. The song was remixed by Rob Wells and Chris Anderson of Big Honkin' Spaceship Inc. in 2003, and still plays during the seventh-inning stretch.
On June 18, 2005 Hampshire was hired by Darren Stevens to host a 60's-70's based oldies radio show on CHAY-FM in Barrie, Ontario.
Ad blocker interference detected!
Wikia is a free-to-use site that makes money from advertising. We have a modified experience for viewers using ad blockers

Wikia is not accessible if you've made further modifications. Remove the custom ad blocker rule(s) and the page will load as expected.