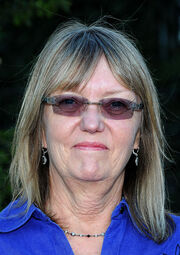 Janet Hirshenson is the Casting Director (along with Jane Jenkins) of Beetlejuice (1988), Harry Potter and the Sorcerer's Stone (2001), Little Giants (1994), Dennis the Menace (1993), Air Force One (1997), The Perfect Storm (2000), Bicentennial Man (1999), The Presidio (1988), All Dog go to Heaven (1989), Ghost (1990), Hook (1991), Home Alone (1990), Home Alone II: Lost in New York (1992), License to Kill (1989), Jurassic Park (1993), Transformers (2007), Red Dawn (1984), Poseidon (2006), Space Jam (1996), Tom and Jerry: The Movie (1992), Ferris Bueller's Day Off (1986), Air America (1990), Nine Months (1995), How the Grinch Stole Christmas (2000), The Dead Zone (1983), Stand by Me,(1986) and others.
Ad blocker interference detected!
Wikia is a free-to-use site that makes money from advertising. We have a modified experience for viewers using ad blockers

Wikia is not accessible if you've made further modifications. Remove the custom ad blocker rule(s) and the page will load as expected.