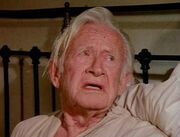 Hugo Stanger (June 22, 1901 - January 29, 1990) was an American actor. Stanger played the part of Old Bill in Beetlejuice (1988).
Hugo Stanger played bit parts in movies & shows since 1958, including Tough Guys (1986), Vice Squad (1982), Brothers (1984-89), Best Defense (1984), Psycho III (1986), Highway to Heaven (1984-89), Hill Street Blues (1981-87), The Seventh Sign (1988), The Best of Times (1986), The Twilight Zone (1985-89) and Little House on the Prairie (1974-83).
Ad blocker interference detected!
Wikia is a free-to-use site that makes money from advertising. We have a modified experience for viewers using ad blockers

Wikia is not accessible if you've made further modifications. Remove the custom ad blocker rule(s) and the page will load as expected.