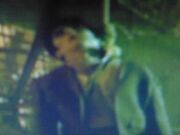 Hanging Man (who was played by Charles Schneider) is one of the afterlife characters in the 1988 live-action Beetlejuice film.
A victim commited suicide by hanging-up with a rope, though he goes to the Afterlife, as he's working on his Afterlife job, which he delivers papers to some other Afterlife patients.
Ad blocker interference detected!
Wikia is a free-to-use site that makes money from advertising. We have a modified experience for viewers using ad blockers

Wikia is not accessible if you've made further modifications. Remove the custom ad blocker rule(s) and the page will load as expected.