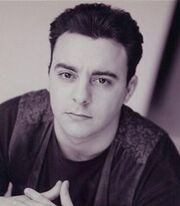 Hadley Kay (born 1973) is a Canadian-born voice actor who appeared in the first two Care Bears movies: as the voice of magician Nicholas in The Care Bears Movie (1985) and as the villain Dark Heart in Care Bears Movie II: A New Generation (1986). He also voiced P.C. Popple in the first season of Popples and Prince Vince in Beetlejuice: The Animated Series (1989-91).
Kay also appeared in Superman II (1980) movie, Ewoks (animated series, which has an inspiration of the Star Wars franchise), Inspector Gadget (The Animated series of the 1980s), and some of the earliest The Raccoons specials as the character Tommy. Then in season 3, he would play "Bix Wheelie" in one episode as a guest role.
He even guest-voiced Scooby-Doo for the 1997 episodes of Cartoon Network's Johnny Bravo (1997-2004). His other television credits include guest appearances in The Littlest Hobo (the 2-part episode, "The Five Labours of Hercules" in 1983), Bizarre (TV series), and Kung Fu: The Legend Continues (1993-97).
At age six, he was already a young veteran actor at the stage. A few years later, he made his film debut opposite Bill Murray in Meatballs (1979).
Currently, he is now the voice of Nurzak in the currently popular anime series, Bakugan: Gundalian Invaders.
Beetlejuice Connections
Edit
Kay is also from "Meatballs" (1979; with Keith Knight & Harvey Atkin) and Care Bears Movies I & II (with Dan Hennessey)
Ad blocker interference detected!
Wikia is a free-to-use site that makes money from advertising. We have a modified experience for viewers using ad blockers

Wikia is not accessible if you've made further modifications. Remove the custom ad blocker rule(s) and the page will load as expected.