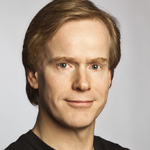 George Elliott (aka George Elliot) is one of the Layout Artists (all four seasons) of Beetlejuice: The Animated Series. In addition to being an Executive Producer at Fresh TV, he's also an artist, animator, director, award-winning children's author, and creative head of Elliott Animation Inc., a 140-person studio which became Fresh TV's formal production partner in 2007. Elliott has earned more than a thousand screen credits as a producer, director, art director, character designer, key poser, and layout artist. As a producer, his projects have included 2D and 3D animation series for television, direct-to-video features, CD-ROM games and television commercials. He's also known for his other works (including an executive producer), such as two units of the animated Star Wars television series (Droids & Ewoks), Babar, Little Rosey, Eek! the cat, The Adventures of Teddy Ruxpin, The Care Bears Adventures in Wonderland, Dunce Buncket, Grojband, My Babysitter's a Vampire, Total Drama Series, Stoked, Really Me and others.
Ad blocker interference detected!
Wikia is a free-to-use site that makes money from advertising. We have a modified experience for viewers using ad blockers

Wikia is not accessible if you've made further modifications. Remove the custom ad blocker rule(s) and the page will load as expected.