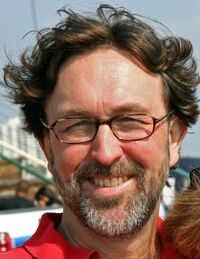 Eric Lewald is a writer and a story editor of Beetlejuice: The Animated Series. He's also developed 12 successful series for television for which he was also employed as showrunner/head-writer.
Eric grew up in Northfield, Minnesota, and Knoxville, Tennessee, where his father, H. Ernest Lewald, worked as professor of Romance Languages. He graduated Phi Beta Kappa from the University of Tennessee's College Scholar's Program with a degree in Cinema Studies.
Eric began his career as a staff writer at Hanna-Barbera Productions and Disney TV Animation. His development work, writing supervision, and creation of original story material helped make "X-Men: The Animated Adventures" (1992-97) the most successful animated series of its time.
Ad blocker interference detected!
Wikia is a free-to-use site that makes money from advertising. We have a modified experience for viewers using ad blockers

Wikia is not accessible if you've made further modifications. Remove the custom ad blocker rule(s) and the page will load as expected.