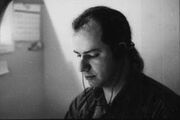 Dale Desrochers is one of the layout artists of Beetlejuice: The Animated Series (season 1 only). He's also know for his works, such as Tales from the Cryptkeeper, Quads!, Rupert, Fievel's American Tails, The NeverEnding Story: The Animated Series, Journey to the Center of the Earth (1996) and The Little Bear Movie.
Ad blocker interference detected!
Wikia is a free-to-use site that makes money from advertising. We have a modified experience for viewers using ad blockers

Wikia is not accessible if you've made further modifications. Remove the custom ad blocker rule(s) and the page will load as expected.