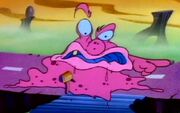 Big Gooey is a parent of Little Gooey in few episodes of "Beetlejuice: The Animated Series", including "Critter Sitters".
In this pilot episode of the animated series, Big Gooey, who's in Neitherworld, wanted Mr. BJ (Beetlejuice) to take good care of Little Gooey, but all of a sudden, Little Gooey and other Neither-babies have gone mischief because Mr. BJ said he was a baby and he transformed hinself into a baby. As Lydia and Arnlow followed Baby BJ and Neither-Babies to Neither-Mall (which means Mall in Neitherworld. Shocking Mall, that is), they made a mess in Neither-Mall, until Lydia tells Baby BJ to say "BJ's normal again"... and suceeded it. Now, Lydia, Mr. BJ, Arnlow and Neither-Babies have come outside at the mall as order by Neither-Cops (which means Police Cops in Neitherworld). As Big Gooey returns to Little Gooey, Big Gooey was very mad at Mr. BJ, who's got into more trouble.
Big Gooey hasn't appeared in BJ's live-action film. Instead, he'd only appears in few of this animated episodes.