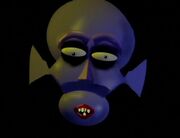 Barry MeNot, who's a character in the CGI (which stands for Computer Generated Imagery) sequence in the animated series, is the NTV (Neitherworld Television) personality who appears in various "commercials" that sometimes pop up to emphasize a particular plot point in a humorous aside. Unlike the rest of the show, Barry MeNot's vignettes are computer-generated animation. He almost never interacts with the rest of the characters. He appeared in some of the animated series episodes, including "Forget Me Nuts", "Worm Welcome" and "Wizard of Ooze".
The name of the animated series character has pun-on the phrase, which says "bury me not".
Ad blocker interference detected!
Wikia is a free-to-use site that makes money from advertising. We have a modified experience for viewers using ad blockers

Wikia is not accessible if you've made further modifications. Remove the custom ad blocker rule(s) and the page will load as expected.