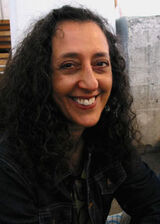 Arna Selznick is a Canadian Director and Artist, known for directing Nelvana's 1985 animated film The Care Bears Movie. She is one of only four women to have directed a full length animated feature. She owns and operates a studio called Dancingmonkeys with her husband/partner John van Bruggen. She's also a layout artist (season 1) and a storyboard artist (seasons 2, 3 & 4) of Beetlejuice: The Animated Series.
Selznick began her career at Toronto's Nelvana studio, participating in several efforts such as Rock & Rule, Inspector Gadget and Strawberry Shortcake and the Baby Without a Name. There, she met future husband John van Bruggen. She moved on to direct The Care Bears Movie, released in 1985 by Samuel Goldwyn Films (now owned and distributed by MGM) in the United States, and Astral Films and Criterion Pictures Corporation in Canada. The film went on to win Canada's Golden Reel Award for highest-grossing local production in 1985, at C$1.845 million. At the time of that film's release, she was only the third woman to direct an animated feature (after Lotte Reiniger of 1927's The Adventures of Prince Achmed, and Joy Batchelor of 1954's Animal Farm). Selznick was part of the layout unit on the next two Care Bears films, A New Generation (1986) and Adventure in Wonderland (1987), and was also a storyboard artist on Wonderland.
In 1986, Selznick launched the dancingmonkeys studio in Toronto, partnering with John van Bruggen. In 2005, she and van Bruggen created Coolman!, part of the FunPak series on Canada's YTV network. Selznick has also been among the crew of several other children's films and television series, among them Disney's Return to Never Land; the British animated feature The King's Beard; the Nicktoons sci-fi saga Skyland; Treehouse TV's Toot & Puddle; and many other Nelvana productions.
While the Houston Chronicle's Stephen Hunter gave a mixed response to the animation of The Care Bears Movie, he pointed out that director Selznick "has a nice feel for the dynamics of action animation; several of the set-pieces zing along nicely."
Ad blocker interference detected!
Wikia is a free-to-use site that makes money from advertising. We have a modified experience for viewers using ad blockers

Wikia is not accessible if you've made further modifications. Remove the custom ad blocker rule(s) and the page will load as expected.