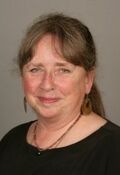 Aggie Guerard Rodgers (born on December 26, 1943 in California, USA), as Agnes Ann Guerard. She is known for her costume designing work on The Adventures of Buckaroo Banzai Across the 8th Dimension (1984), Pee-wee's Big Adventure (1985), Leonard Part 6 (1987), The Hurricane (1999) Holes (2003), Star Wars: Episode VI - Return of the Jedi (1983), The Fugitive (1993), and Beetlejuice (1988). She has been married to Peter Buckley Laxton since June 29, 1980. They have two children. She was previously married to David Rodgers, until she gets a divorce in 1976.
Ad blocker interference detected!
Wikia is a free-to-use site that makes money from advertising. We have a modified experience for viewers using ad blockers

Wikia is not accessible if you've made further modifications. Remove the custom ad blocker rule(s) and the page will load as expected.